Ganesh Yantra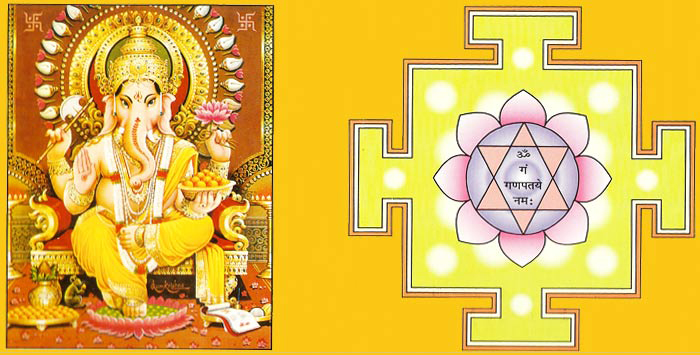 Ganesh, is the God of wisdom & remover of all obstacles .
Ganesh puja is must before starting any new work. It is most auspicious Ganesh is always invoked before any important work is undertaken be it the starting of a business, the building of a house or the writing of a book or even undertaking a journey.
The one who do upasana & puja of Ganesh Yantra is blessed with success in his work, business, undertaking & desires. Ganesh puja is must before starting any work.It is most auspicious. The sadhaka is blessed with success in his work, business, undertaking and desires. Ganesh puja can be performed through idol or through Ganesh yantra. Ganapati or Ganesha, the Lord of Ganas, the elephant faced God, represents the power of the Supreme Being that removes obstacles and ensures success in human endeavors. Ganesha is revered as the son of the Shiva and Parvati, and is always honored first in most worship services and rituals. Ganesha is also known as Ganapati, Vigneswara, Vinayaka, Gajamukha and Ainkaran. He is worshipped for siddhi, success in undertakings , and buddhi, intelligence. He is worshipped before any venture is started. He is also the God of education, knowledge and wisdom, literature, and the fine arts.
Ganesh yantra is written during an auspicious lagna & mahurta The Ganesh  mtantra has be recited and the yantra is purified. This yantra is composed of six triangles, closed on all the sides with a central triangle and binds inside. The Beej word (Gang) is recited for purifying the yantra. Guru Adi Shankaracharya has recommended that every home shall establish Ganesh Yantra on its outer door or wall to get protection from all evils.
Jaap mantras to be recited for purifying the Ganesh Yantra.
"Om Hareeng Shareeng glung gang Ganpatiye var vard Sawjanam me Vashmanayte Savaha Tha".
"Om gan ganpatyae Namah."
---
Yantra Guidelines:-
A Yantra is an instrument, or a talisman or a mystical diagram usually in copper. It is a technique or path, considered the simplest and shortest, through which one can attain one's desires, and fulfill one's wishes. It is said that the 'Deities' reside in the Yantras and by performing 'Puja' or worship of Yantras, one can appease them, remove the malefic effects of planets, and increase the flow of positive influences. Procedures to be followed by you to place this energized Yantra.
1. First purify your body and start with a clear and positive mind frame
2. Find a place on the floor facing east, where you will be undisturbed.
3. Light the incense or diya. (It does not matter how many you light).
4. Lay a fresh flower and a fresh fruit on the altar.
5. Open the Yantra and place it along with the image of the deity of yantra and your isht God.
6. Take the water with any leaf from any tree and sprinkle the water on yourself followed by sprinkling the water on the Yantra.
7. Then purify your soul and surrender yourself completely in devotion to God and chant 21 times the following :
"Aum Gan Ganpatye Namah"
Close your eyes and concentrate on the deity to bless you with wishes.Now with all sincerity, ask God to grant you the desire of your life that you wanted to be fulfilled in your own language.
8. 8. Vedic Yantras are Energised (Pran pratishta) by learned purohits, by reciting the vedic mantra of the particular Devi or Deva.