Hanuman Puja Yantra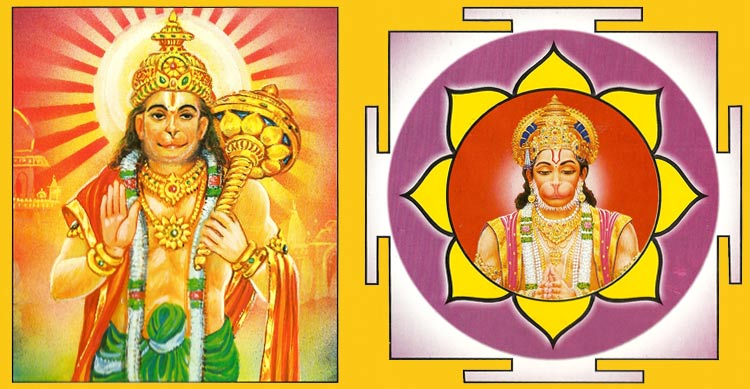 Goddess Saraswati is the goddess who bestows intellect, intelligence on her devotees and is the patron goddess of
Hanuman Yantra is to appeas Lord Hanuman. Those who have malefic Mars in their chart or Horoscope shall perform daily puja to Hanuman Yantra. Continous 40days puja with oil sindoor, long , supari and Beetal leaves yeilds to success in whatever work you wish. Hanuman Yantra is very auspicious and useful in bussiness success. The lord of power, Authority and Vigour is Lord Hanuma. This yantra is very Powerful and tested. During the puja of Hanuman Yantra , the Sadhak should remain absolutely pious and observe Barahmcharya. Keep fast on every Tuesday after starting the puja.

Hanuman Yantra is very beneficial in cases where a female's marital life becomes strained, leading to divorce or separation between the couple, pooja of this yantra by the female has shown remarkable results in patching up relations between the couple.

In case where a man or woman is of harsh tamper, then, by wearing this yantra, troubles arising from such person's behavior are controlled, after pooja. 

When a man is lacking in courage and boldness or is shy and unable in expressing himself, very good results have been seen by performing the pooja of this yantra and keeping it on the person's body. It may be noted here that the person who is wearing this yantra on his or her body or performing its pooja should avoid fish, meat, etc. and also carnal pleasures or contacts with opposite sex on Tuesdays. Keep fast on this day, in order to get rapid results.
Yantra Guidelines:-
A Yantra is an instrument, or a talisman or a mystical diagram usually in copper. It is a technique or path, considered the simplest and shortest, through which one can attain one's desires, and fulfill one's wishes. It is said that the 'Deities' reside in the Yantras and by performing 'Puja' or worship of Yantras, one can appease them, remove the malefic effects of planets, and increase the flow of positive influences. Procedures to be followed by you to place this energized Yantra.
1. Find a place on the floor facing east, where you will be undisturbed.
2. Light the incense or diya. (It does not matter how many you light).
3. Lay a fresh flower and a fresh fruit on the altar.
4. Open the Yantra and place it along with the image of the deity of yantra and your isht God.
5. Take the water with any leaf from any tree and sprinkle the water on yourself followed by sprinkling the water on the Yantra.
6. Close your eyes and concentrate on the deity to bless you with wishes.Now with all sincerity, ask God to grant you the desire of your life that you wanted to be fulfilled in your own language.
Vedic Yantras are Energised (Pran pratishta) by learned purohits, by reciting the vedic mantra of the particular Devi or Deva.