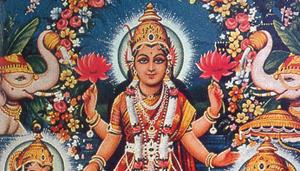 Idol and Ritual Worship
Phool each deity also has its own favourite flower. For rituals, blooms are chosen for their colour, fragrance and beauty. Leaves of various trees and plants which are considered holy are also used. Garlands are made in innumerable designs and torans decorate doors of homes or temples on festive days.

Dhoop
Attar, joss sticks or agarbattis, camphor, sandalwood paste and saffron are used extensively in worship both as an offering as well as to create a sweet atmosphere.

Other Puja materials
Umkum (vermillion), haldi (turmeric), sindoor (lead oxide), abir and gulal are used for annointing the deities. Holy rice or akshata, is made by mixing rice, kumkum and a little water. Coconuts, betel leaves and nuts are offered both to god and to honoured guests at festive worship. Rangoli designs in predetermined and often intricate patterns and colours are drawn for specific puja rituals.

Puja or worship, a series of rituals in household altars or consecrated temples, can be ornate or simple. When it is simple adoration of god, it consists of people gathering together to sing devotional songs to the accompaniment of musical instruments, to hear philosophical or Puranic discourses and to share prasad or holy food at the end of the session. A Kirtan is a mix of singing, story-telling and offering worship to a deity with flowers and various foods.

But ornate worship is much more ritualistic with several upacharas or services being performed in adoration of the deity. Various traditions in temples decide the number of upacharas to be performed but almost everywhere in India, certain basic ones are performed to constitute worship. They are Prabodha, or awakening of the deity; Snana, a ceremonial bathing of the deity; Avahana, invitation to the deity; Archaka, or the welcome; Pradakshina or the circumambulation; Naivedya, offering of food; Arati, the lamp adoration; Prarthana, or the prayers and Visarjana or bidding farewell.

In these basic upacharas, the deity is awakened with music and hymns of praise. The Nirmalya or the flowers and leaves used earlier, are discarded and the sanctum is cleaned. A ceremonial bath is given to a small representative idol using fragrant materials like saffron or sandalwood. Then the deity is dressed in fresh robes and decorated with ornaments. Next, the deity is invited by ringing bells and blowing a conch.

Thereafter the deity is welcomed by presenting garlands, offering a seat and the giving of water for washing his feet and for ritualistic sipping.

This is followed by circumambulation or walking around the deity with folded hands and then by offering food and mildly perfumed water, all amidst the aroma of flowers and incense. The food thus offered is afterwards distributed to devotees as prasad and is believed to have great power of benediction. Arati, and the accompanying prarthana form a collective request to the deity for health, wealth and wisdom. The worship rituals end when the deity is bid farewell by chanting of mantras.