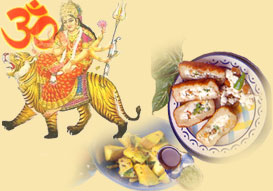 Recipies
VRAT KI KADHI

Serves 3-4
1 cup curd (should be sour)
4 cups water
3 tbsp singhare ka atta
1¼ tsp salt, ½ tsp sugar
1 tsp green chilli paste,
½ tsp ginger paste
1-2 tbsp oil or ghee,
1 tsp jeera
3-4 tbsp chopped curry leaves or coriander


ALOO KE PAKODE
1 potato - cut into thin slices
¼ cup singhare ka atta
¼ cup water - approx.
1 tbsp oil
salt and pepper to taste


1. To make pakoras, mix atta with a little batter and oil to a thick coating consistency. Add salt and pepper to taste and beat well to make it light.

2. Heat oil for frying. Dip potato slices in batter and deep fry on medium flame till done. Remove on absorbent paper and keep aside.

3. Mix curd, salt, sugar, ginger paste, green chilli paste, singhare ka atta and water. Beat well.

4. Boil, stirring continuously. Simmer for 4-5 minutes on low heat.

5. In a small pan heat ghee. Add jeera. When it turns brown, remove from fire and add chopped curry leaves or coriander. Mix.

6. Add to the simmering kadhi. Add pakodas also. Simmer for 5 minutes. Serve hot.

Note : For a thicker kadhi, increase the quantity of atta by 1-2 tbsp.