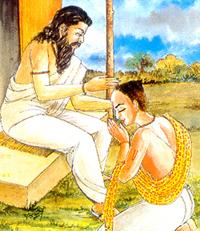 Shree Guru Charan Saroj Raj, Nij Man Mukur Sudhari,
Barnau Raghuvar Bimal Jasu, Jo Dayaku Phal Chari.

With the dust of Guru's Lotus feet, I first clean the mirror of my heart and then narrate the sacred glory of Shri Ram Chandra, The Supreme among the Raghu dynasty. The giver of four fold attainments of life.
*The fourfold attainments are kama, Artha, Dhama and Moksha i.e. pleasure, wealth, religious-merit and salvation.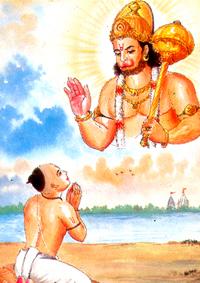 Budhi heen Tanu Janike, Sumirow, Pavan Kumar, Bal Buddi Vidya Dehu Mohi, Harahu Kalesh Bikaar

Knowing myself to be ignorant, I urge you, O Hanuman, The Sort of Pavan!' O Lord! Bestow on me strength, wisdom and knowledge, taking, away all my miseries and blemishes.
1. Wind God.