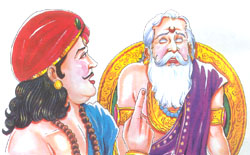 Sanjaya said: "Seeing Arjuna full of compassion and very sorrowful, his eyes brimming with tears, Madhusudana, Krishna, spoke the following words."

Bhagavan said: "My dear Arjuna, how have these doubts come upon you? They are not at all befitting a man who knows the progressive values of life. They do not lead to higher planes but to infamy.

Partha, does not yield to this degrading impotence. It does not become you. Give up such petty weakness of heart and rise, O chastiser of the enemy."

Arjuna said: "O killer of Madhu [Krishna], how can I counterattack with arrows in battle men like Bhisma and Drona, who are worthy of my worship?"

It is better to live in this world by begging than to live at the cost of the lives of great souls who are my teachers. Even though they are avaricious, they are nonetheless superiors. If they are killed, our deeds will be tainted with blood.

Nor do we known which is better-conquering them or being conquered by them. The sons of Dhritarastra, whom if we kill we should not care to live, are now standing before us on this battlefield.

Now I am confused about my duty and have lost all composure because of weakness. In this condition I request you to tell me clearly what is best for me. Now I am Your disciple, and a soul surrendered unto You. Please instruct me.

I can find no means to drive away this grief which is drying up my senses. I will not be able to destroy it even if I win an unrivaled Kingdom on earth with sovereignty like the demigods in heaven.

Sanjaya said: Having spoken thus, Arjuna, chastiser of enemies, told Krishna, "Govinda, I shall not fight," and fell silent.

O descendant of Bharata, at that time Krishna, smiling, in the midst of both the armies, replied to the grief-stricken Arjuna.

The Lord said: "While speaking learned words, you are mourning for what is not worthy of grief. Those who are wise lament neither for the living nor the dead,"

Never was there a time when I did not exist, nor you, nor all these kings; nor in the future shall any of us cease to be.

As the embodied soul continuously passes, in this body, from boyhood to youth to old age, the soul similarly passes into another body at death. A self-realized soul is not bewildered by such a change.