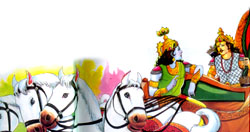 Arjuna asked: "Which is considered to be more perfect, those who are properly engaged in Your devotional service, or those who worship the impersonal Brahman, the unmanifested?

The Blessed Lord said: He whose mind is fixed on My form, always engaged in worshiping Me with great and transcendental faith, is considered by Me to be most perfect.

But those who fully worship the unmanifested, that which lies beyond the perception of the senses, the all-pervading, inconceivable, fixed immovable-the impersonal conception of the Absolute Truth--by controlling the various senses and being equally disposed to everyone, such persons, engaged in the welfare of all, at last achieve Me.

For those whose minds, are attached to the unmanifested, impersonal feature of the Supreme, advancement is very troublesome. To make progress in that discipline is always difficult for those who are embodied.

For one who worship Me, giving up all his activities unto Me and being devoted to Me without deviation, engaged in devotional service and always meditating upon Me, who has fixed his mind upon Me, O son of Partha, for him I am the swift deliverer from the ocean of birth and death.

Just fix your mind upon Me, the Supreme Personality of Godhead, and engage all your intelligence in Me. Thus you will live in me always, without doubt.

My dear Arjuna, O winner of wealth, if you cannot fix your mind upon Me without deviation, then follow the regulated principles of bhakti-yoga. In this way you will develop a desire to attain to Me.

If you cannot practice the regulations of bhakti-yoga, then just try to work for Me, because by working for Me you will come to the perfect stage.

If, however, you are unable to work in this consciousness, then try to act giving up all results of your work and try to be self-situated.