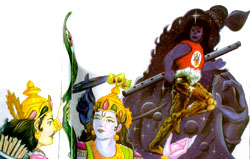 Arjuna said: "O my dear Krishna, I wish to know about prakriti [nature], purusha [the enjoyer], and the field and the knower of the field, and of knowledge and the end of knowledge," The Lord then said: "This body, O son of Kunti, is called the field, and one who knows this body is called the knower of the field.

O scion of Bharata, you should understand that I am also the knower in all bodies, and to understand this body and its owner is called knowledge. That is my opinion.

Now please here my brief description of this field of activity and how it is constituted, what its changes are, whence it is produced, who that knower of the field of activities is, and what his influences are.

That knowledge of the field of activities and of the knower of activities is described by various sages in various Vedic writings-especially in the Vedanta-sutra and is presented with all reasoning as to cause and effect.

The five great elements, false ego, intelligence, the unmanifested, the ten senses, the mind, the five sense objects, desire, hatred, happiness, distress the aggregate, the life symptoms, and convictions-all these are considered, in summary, to be the field of activities and its interactions.

Humility, pridelessness, nonviolence, tolerance, simplicity, approaching a bonafide spiritual master, cleanliness, steadiness and self-control; renunciation of the objects of sense gratification absence of false ego, the perception of the evil of birth, death, old age and disease; detachment to children, wife, home and the rest and even mindedness amid pleasant and unpleasant events, constant and unalloyed devotion to Me, resorting to solitary places, detachment from the general mass of people; accepting the importance of self-realization, and philosophical search for the Absolute Truth--all these I thus declare to be knowledge, and what is contrary to these is ignorance.