The Shiva Bhoramdeo Temples in Kawardha, India
are said to have been established in the 11th
century A.D
Shiv Bhoramdeo Temple (Chhattisgarh) Hindu Temples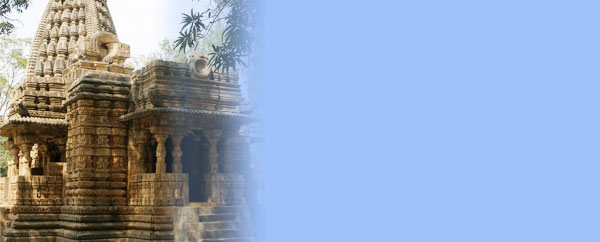 Kawardha in Chhattisgarh is not only liked by its visitors for its own attractions but also for those that are provided in the form of Excursions from Kawardha. One of such places that must be visited from Kawardha is the Shiva Bhoramdeo Temples, Kawardha. The chief attractions of the Shiva Bhoramdeo Temples, Kawardha are the minute carvings on stone that depict various deities of the region. Among these Temples in Kawardha, the Bhoramdeo Temple is situated in the midst of a mango grove.

The curves and the angular projections of the structures represent the local style of architecture which is a fusion of the retreating 'mountain-range' style that is found in the Shikhara (top) of the temples in Khajuraho and the short-blocked curvilinear form that can be witnessed in the temples of Orissa. The façade of these Shiva Bhoramdeo Temples near Kawardha exhibit magnificent sculptures. The Temples of Shiva and Bhoramdeo in Kawardha are situated at a distance of 18 kilometers from the city. The place is situated to the North of Raipur, which is the capital city of Chhattisgarh. Hence the place is indirectly accessible from various parts of India. Thus, with all such transport facilities, a visit to the Shiva Bhoramdeo Temples, Kawardha would certainly make your Tour to Kawardha, an unforgettable one.

History

The Shiva Bhoramdeo Temples in Kawardha, India are said to have been established in the 11th century A.D.

How to Reach

Kawardha is accessible by the three prime means of transport viz. the roadway, railway, and airway, which are available from different Cities in Chhattisgarh.

Kawardha is well connected by road, rail, and air transport with Raipur (which is the Capital of Chhattisgarh). The latter is separated by a distance of 140 kilometers from the former.

Regular planes connect Raipur with the major cities like Delhi, Mumbai, Calcutta, Chennai, Ahmedabad, Bhubaneshwar and Indore. On the other hand the Railway Station of Raipur is also connected by trains from various parts of the country like Delhi, Kolkata, Mumbai, Bhubaneswar, and Bhopal.

Bilaspur, which lies 124 kilometers from Kawardha, is another important railhead. Regular bus service between the two places also ensures easy accessibility of the same for the travelers.