It is also believed that Chettikulangara Amma
(the main deity) is the daughter of Kodungallur
Amma.
Guruvayur Temple (Kerala) Hindu Temples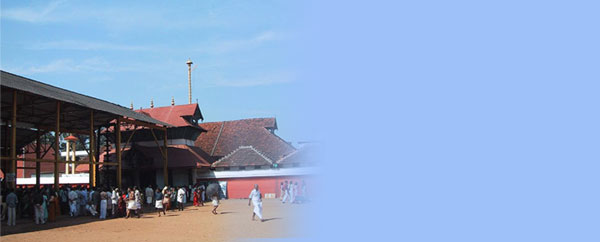 The Guruvayur Shri Krishna Temple is one of the most famous temples in India. It is located in the town of Guruvayur in Thrissur district of Kerala. The presiding deity is Shri Krishna, in the standing posture with four hands (Chaturbahu) that carry the Sankhu (conch), the Sudarshana chakram (a serrated disk), the lotus and the mace[1] . The Lord is worshipped in his many manifestations, the favorite with devotees being the 'Sankalpa' of the Lord as 'Unnikrishnan' (Infant Krishna). For devotees Guruvayur is "Bhooloka Vaikuntham" and Dakshina Dwaraka. The idol of the deity is made of a rare stone known as Patala Anjanam. The hereditary Tantri (Head Priest) of the temple is from the Chennas Mana.

History

The earliest reference for Guruvayur is found in a fourteenth century Tamil work 'Kokasandesam', in which it is described as Kuruvayur. Many references about Guruvayur can be seen in many works dated as early as 16th century. It was Melpathur Narayana Bhattathiri's Narayaneeyam that made the Temple famous outside Kerala.

Guruvayur was attacked, ransacked & set on fire by Dutch christians in 1716 AD. After rebuilding, it was then immediately attacked by Haider Ali, a Shia Muslim, who accepted a ransom not to attack the shrine. His son, Tippu Sultan who had destroyed many Hindu temples, supposedly had a dream where he was told not to attack Guruvayoor Temple, and thus it was saved from destruction.

Legends

Sri Narada purana mentions Guruvayurpura mahatmyan and describes how Janamejaya was cured of leprosy by taking refuge under the feet of Guruvayuruppa. The Pandavas handed over the kingdom to their grandson Parikshit, and left for the forest to spend their last days. Parikshit died of the curse of a saint, who cursed that Parikshit will die of snake bite by Taksaka, the king of serpents. After the death of Parikshit he was succeeded by his son Janamejaya. Janamejaya conducted a sacrifice to destroy all the snakes of the world including Takshaka, who was the cause of his father's death . Hundreds of thousands of snakes fell into the sacrificial fire and were killed, but the sacrifice was stopped before Takshaka was killed, by a Brahmin called Astika.

Since Janamejaya was responsible for the death of millions of snakes, he was afflicted with leprosy. He lost all hope of a cure. One day Sage Atreya (son of Atri) came before Janamejaya and told him to take refuge under the feet of Krishna at Guruvayoor. Atreya told that in the temple at Guruvayyoor the effulgence of Sri Hari is at its best and Vishnu showers his blessings on all devotees. Hearing this, Janamejaya wanted to know the full details of the Sthala purana and the greatness of the temple.