recipes
The special food items that are prepared for Holi are gujjia, papri and kanji ke vade. Meat dishes, like kofta curry, are also served. Thandai or alcoholic beverages are served along with the food.

How the foods are prepared.
1.Gujjia
2.Papri
3.Kanji ke vade
4.Meat kofta curry
5.Bhang ke vade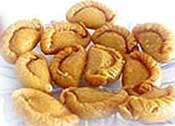 Gujjia.
Makes about 40 gujjias.
Ingredients:
500 gms maida (flour)
1kg khoya
3 tbsps kismis (raisins)
200 gms almonds (cut into thin strips)
6 tbsps cooking oil. ( keep some more aside for deep frying)
200 ml water.
500 gms sugar.
Method:
Mix the six tablespoons of oil with the maida. Using fingers, mix well so that the mixture takes the form of breadcrumbs and binds to a certain extent. Now add some water and knead lightly. Keep adding water as required and knead into a soft dough. Set aside and cover with a damp cloth. Put the khoya in a deep-frying pan and fry to a light brown colour. Add sugar into the khoya and mix well. Add almonds and kismis. Fry for a few minutes and remove from the fire. Let it cool, roll out the kneaded dough into a chapati, thicker and smaller than a normal chapati. Fill half the chapati with the khoya mixture, fold the chapati and seal the round, twisting the edges inwards. Take care that the filling does not ooze out. Deep fry these gujjias, a few at a time, till they are a deep golden brown. Fry on a slow fire. When done, take them out with a sieve type ladle, draining the oil completely. Let them drain further on a spread out newspaper, till all the grease is soaked up. Store for use in an airtight glass jar.
Papri:
Ingredients:
1/2 kg besan.
1 tsp mustard oil.
1 tsp(heaped) salt
1 small tsp red chilli powder
1 cup water
1 tsp methi leaves.(chopped fine)
1/4 kg maida.
Method:
Mix besan, salt, red chilli powder and oil well. Knead the mixture into dough. Knead for about five minutes. Add the methi leaves. Knead for another three minutes. Make the dough into a big round ball and throw the dough on the plate to soften it. This should be done for about seven minutes. Heat oil in a deep-frying pan, on very high heat. While oil is heating, rub some oil on your palm and roll out the dough into a long strip one inch thick. Cut the roll into inch size pieces. Keep rubbing oil on your palms to keep the roll moist. Flatten each piece out into a round shape and roll it into small chapatis. Lightly dust both sides of the small chapatis or papris with maida. Fry very lightly, turning the flame from medium to low as required. Do not let the papris turn brown or red. They should look golden yellow when ready. Drain oil and store in an airtight container.
Kanji ke vade.
Makes about 1 Kg.
Ingredients.
1 kg urad dal.
2 pcs(small) hing
3 tsp salt
4 tsp rai (finely ground)
2 tsp red chillies (pounded)
6 jugs water ( 1 jug = 6 glasses)
Oil for deep frying.
Whole red chillies for garnish.
Method:
Soak urad dal overnight and grind to a fine paste. It should have the consistency of cake batter. Put it n a vessel and whisk it very well so that the mixture is fluffy. Heat oil well in a deep frying pan. Test if the oil is ready by dropping a little of the mixture into the pan if it fluffs up and floats to the surface the oil is ready. Take a piece of wet cloth on your left palm. This allows the vadas to slide off into the pan without difficulty. Put some of the mixture onto the cloth and flatten it, shaping it into round one-inch vadas. Slide these off one by one into the oil, and deep fry. They should be fried through and through, and have a golden brown colour. Take care not to make the vadas too thick.

Keep a tawa on the fire and put the crystals of hing on it. Take a matka or an earthenware pot, and as soon as the hing emits an aroma, turn the matka upside down on the tawa to soak up the smell. Take it off the fire and fill it with warm water. Mix the rai, salt, red chilli powder and whole red chillies into the water. The fried vadas are now put into the matka. The top of the matka is covered with a clean muslin cloth and securely tied. The matka is left out in the sun during the day for eight days. It is then ready to be served