Special Durga Puja Recipes
Vegetarian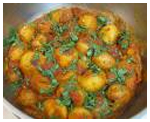 Alur dom
Ingredients:
Potatoes(small) - 500 gms
Mustard - 1/2 table spoon
Curry leaves - 8-10 (Small)
Bay leaves - 2
Tamarind - 50 Gms
Chilli Powder - 1/2 table spoon
Chillies (green) - 5
Salt according to taste
Ginger paste - 1 table spoon
Garlic paste - 1/2 table spoon
Sugar - 1 table spoon
Refined oil - 3/4 table spoon
Method:
Boil potatoes and peel off the skins.
Soak tamarind in a cup of water for 10 mins.and strain the juice.
Heat oil in pan and fry ginger, garlic, mustard, bay leaves with some sugar till brown.
Then add the boiled potatoes & fry untill the potatoes becomes golden brown.
Then add chillies,kurry leaves, salt & add tamarind juice.
Stir & serve hot with luchi/puri.
Fulkopir Vada
Ingredients:
Cauliflower - 1.
Besan - 1cup.
Oil-1 teaspoon.
Water.
Posto (poppy seeds)- 1/2 teaspoon.
Chili powder-1/2 teaspoon.
Salt to taste.
Oil for deep-frying.
Baking soda (optional)- a pinch.
Method:
Cut the cauliflower into medium sized pieces. Boil them so that they become soft on
the exterior but remain hard inside.
Pour besan in a large bowl and add 1 teaspoon oil. Mix thoroughly.
Add water and make batter with a relatively thick consistency.
Add the posto, chili powder and salt and whip batter well.
Dip the cauliflower pieces in the batter and deep-fry them.
Luchi/Puri
Ingredients:
Wheat Flour - 500gms
Refined oil or Ghee - 2 table spoon
Salt according to taste
Warm water to knead the flour
Oil to fry
Method:
Knead 500gms of flour, 2 tablespoon of oil & salt according to taste with warm water.
Make small doughs.
Flatten them into round circular form.
Fry them one by one. Serve hot with other side dish.
Bhaat
Ingredients:
Long grain or basmati rice - 2 cups
Water - 3 cups
Salt to taste
Method:
Wash rice in several changes of water.
Place the rice and water in a deep saucepan, put over medium heat and bring to a boil.
Cook until rice becomes soft.
Drain the water. Serve hot.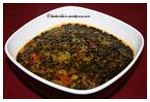 Mung Dal
Ingredients:
Mung dal - 200 gms
Small whole pearl onions-10
Green chilies - 4
Milk - 1/2 cup
Sugar - 1 teaspoons
Salt to taste.
Ghee - 1 table spoon
Bay leaves - 4
Whole cumin seeds - 1/2 teaspoon
Method:
Fry the dry mung dal in a pan over medium heat until it becomes brown.
Wash and put mung dal to boil.
Simmer until dal is cooked.
In a separate pan, heat ghee and fry the bay leaves, onions and cumin seeds for a few minutes.
Pour the dal and simmer for 5 minutes.
Add 1/2 cup of milk and sugar.
Boonde
Ingredients:
Besan-250gms
A pinch of bicarbonate of soda
Powdered rice- 50gms
Water-1 and half cup
Oil for deep frying-1 and half cup
Sugar- 4 cups
Water- 4 cups for making syrup
Method:
In a pan heat together 4 cups of sugar and water.
Let it boil and simmer until the syrup is of medium consistency.
Remove from fire and allow it to cool.
Blend together besan and 1 and half cup of water.
Mix the powdered rice and bicarbonate of soda.
Heat oil in a deep pan and pour the besan mixture on the hot oil through a slotted vessel.
Fry until crisp.
Remove from oil with a slotted spoon. Drain out the oil in a paper.
While still hot pour in the prepared syrup. Continue this until the besan mixture is over.
After the Bonde is soaked in the syrup remove with a slotted spoon and spread out on a flat dish.