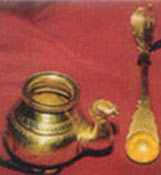 Gold gindi & uddharane
The large circular plate containing the five ritual vessels, panchapatre, then gindi and the uddharane is placed in front of the image in the sanctum on a stand close to where the priest offers worship.
Made out of brass, bronze, silver, or white metal, the legs of such tripods are shaped like those of an elephant to give it solid support. The Parakala Mutt, Mysore, possesses a large silver tripod with an inscription recording this gift in the service of the god Hayagriva by Krishnaraja Wodeyar III The record is not dated.