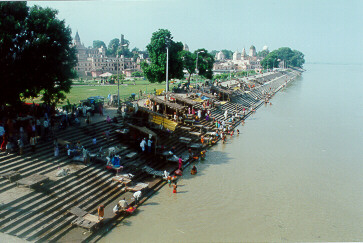 Ayodhya
Ayodhya, a very holy city and is an important pilgrimage site. Lord Rama was born and had many of His pastimes here. It is said to have once had a perimeter of 96 miles and was the capital of Koshala. It is on the banks of the Gogra (Ghaghara or Saryu) River, bathing in which is supposed to destroy even the sin of killing a Brahmin. On the right bank of the river Ghagra or Saryu, as it is called within sacred precincts, stands the holy city of Ayodhya, believed to be the birth place of lord Rama, the seventh incarnation of lord Vishnu. Ayodhya during ancient times was known as Kosaldesa. The Atharvaveda describes it as "a city built by gods and being as prosperous as paradise itself". The illustrious Ikshvaku of the solar clan (suryavamsa) was the ruling dynasty of this region. Ayodhya is pre-eminently a city of temples yet, all the places of worship here, are not only of Hindu religion. At Ayodhya several religions have grown and prospered simultaneously and also at different periods of time in the past. Remnants of Hinduism, Buddhism, Jainism and Islam can still be found in Ayodhya. According to Jain belief, five tirthankaras were born at Ayodhya, including Adinath (Rishabhadeva), the 1st tirthankar.
Location and Access
Area : 10.24 Sq. km.
Population : 40642 (1991 census)
Season : October - March.
How to Get There
Air : For Ayodhya the nearest airports are Amausi, Bumrauli and Babatpur.
Rail : Ayodhya is situated on the broad gauge northern railway line on Mughal Sarai- Lucknow main route. Ayodhya/Faizabad are connected to various parts of the country by rail lines.
Road : Connected by road to several major cities and towns.
To Top Prime Pilgrimage Attractions
Guptar Ghat - The Amarnath Yatra is organised every year by the J &K Govt. during the month of Shravan (July and August); the dates however, vary every year looking at the weather conditions and according to Purnima (Raksha Bandhan) in the month of Sharavan (Vikrama Samwat). This year Yatra will be taken up from 08 July 2003 to 08 August 2003.
Ramkot -The chief place of worship in Ayodhya is the site of the ancient citadel of Ramkot, which stands on an elevated ground in the western part of the city. Although visited by pilgrims through out the year, this sacred place attracts devotees from all over India and abroad, on 'Ramnavami', the day of the lord's birth, which is celebrated with great pomp and show, in the Hindu month of Chaitra (March-April).
The Hanuman Garhi - Situated in the centre of the town, this temple is approachable by a flight of 76 steps. Legend has it that Hanuman lived here, in a cave and guarded the Janmabhoomi or Ramkot. The main temple contains the statue of Anjani, with child Hanuman, seated on her lap. The devotees believe that all their wishes will be granted with a visit to this holy shrine. A massive structure in the shape of a four-sided fort with circular bastions at each corner, houses a temple of Hanuman and is the most popular shrine in Ayodhya.
Treta-Ke-Thakur - This temple stands at the place, where Rama is said to have performed the Ashvamedha Yagya. About 300 years ago, the Raja of Kullu built a new temple here, which was improved by Ahilyabai Holkar of Indore, during 1784. At the same time, the adjoining ghats were also built. The initial idols in black sandstone were recovered from Saryu and placed in the new temple, famous as Kaleram-ka-Mandir.
Nageshwarnath Temple - The temple of Nageshwarnath, is said to have been established by Kush, the son of Rama. Legend has it that Kush lost his armlet, while bathing in the river Saryu, which was picked up by a nag-kanya, who fell in love with him. As she was a devotee of Shiva, Kush erected this temple for her. It is said that this is the only temple to have survived till the time of Vikramaditya, the rest of city had fallen into ruins and was covered by dense forests. It was by means of this temple that Vikramaditya was able to locate Ayodhya and the sites of different shrines here. The festival of Shivratri is celebrated here with great pomp & show.
To Top Other Pilgrimage Attractions
There is a nice area by the river surrounding Lakshman Ghat. Lakshman, the brother of Rama, is said to have bathed at Lakshman Ghat.Vasistha Kund is a temple with a small round kund like a well. Rama is said to have performed a yajna (sacrifice) at Treta Ka Mandir. There are Sita-Rama Deities in this temple. Kaushalya, the mother of Rama, is said to have established the Kshireswara Nath Temple for Sita. Bharata Kund, at Nandigram, 20 km from Ayodhya, is said to be the place where Bharata ruled while Rama was in exile for 14 years. A half km north of Janmabhoomi is Swarga Dwara, or Ram Ghat, which is an important bathing ghat.
Festivals
Shravan Jhoola Mela (July-August) Parikrama Mela (October-November) Ram Navmi (March-April) Rathyatra (June-July) Saryu Snan (October-November) Ram Vivah (November) Ramayan Mela.take place at any time or place during the Yatra . It is to be particularly noted that abrupt changes in temperature might occur. Sunny weather may turn into rain / snowfall in a short time. The temperature may fall up to -5 degree C.