Swaminarayan and his saints used to take a
bath in the River Ghelo. This river flows in the
south side of the temple.
Akshardham Temple (Gujarat) Hindu Temples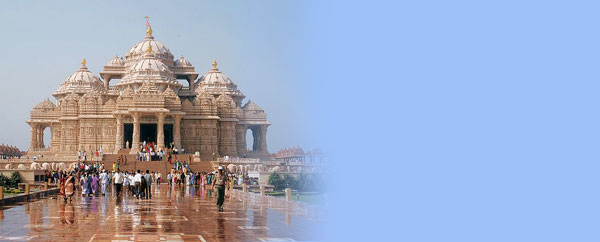 Akshardham Temple is situated in the capital city of Gandhinagar, which lies near Ahmedabad. The magnificent temple is dedicated to Lord Swaminarayan. It was constructed on the directions of Pramukh Swami Maharaj, the spiritual leader of BAPS Sanstha. The complex of this temple is the largest in Gujarat. Akshardham temple was inaugurated in the year 1992 and has become a major tourist attraction in India, during the last decade. It has a sprawling 23 acre area and is chiseled out in pink sandstone.

It stands tall with a height of 108 feet and 6000 tones of stone were used in its construction. The magnum opus monument in rock is built according to the Vaastu Shastra (architectural treatise) and not even an inch of steel has been used. The main shrine contains a 1.2 ton gold plated idol of Lord Swaminarayan. The 7 foot high idol is built in a sitting posture, with his right hand raised in abhay mudra. He is accompanied by two other idols of his disciples on both sides. Swami Gunatitanand is on his right and Swami Gopalanand on his left.

A special light and sound show is organized for the visitors here. The show depicts the glorious past of Sanatan Dharam. Millions of visitors come to Akshardham Temple of Gujarat every year and enlighten themselves with Hindu philosophy. They learn a lesson of universal brotherhood and unity and pledge to follow the teachings of Hinduism in their daily life. Apart from this there are a number of other worth-seeing places in the temple compound.