A Holy Lamp is constantly burning on this hill
temple facing exactly in front of Visa Shree
Yantra of Nij Mandir of Mata Shri Arasuri Ambica.
Ambaji Temple (Gujarat) Hindu Temples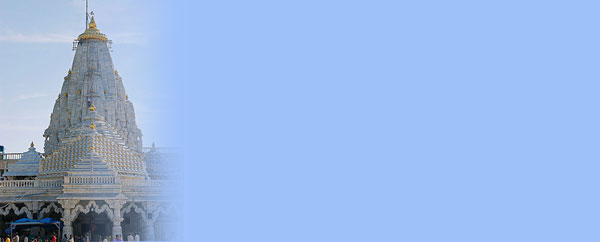 Ambaji is a census town in Banaskantha district in the state of Gujarat, India. Ambaji is an important temple town with millions of devotees visiting the Ambaji temple every year. It is one of the 51 Shaktipeeths. Ambaji mata temple is a major Shakti Peeth of India. It is situated at a distance of approximately 65 kilometers from Palanpur and 45 kilometers from Mount Abu and 20 kilometers from Abu Road near the Gujarat and Rajasthan border.

The original seat of Ambaji mata is on gabbar hilltop in the town. A large number of devotees visit the temple every year specially on Purnima days. A large mela on Bhadarvi poornima (full moon day) is held. In the holy temple of "arasuri ambaji" there is no image or statue of goddess the holy "shree visa yantra" is worshiped as the main daity. No one can see the yantra with naced eye. the photography of the yantra is probhited.

Ambaji town is known for possessing mines which produce fine quality marble and granite. History Ambaji-the Origin of the Supreme Cosmic Power of the Universe is one of the fifty one 51 ancient Shakti Piths Tirth in India. There are 12 main Shakti Pith Tirth, significant places of pilgrimage for the worship of Shakti, namely, Ma Bhagwati Mahakali Maha Shakti at Ujjan, Ma Kamakshi at Kanchi Puram, Mata Bramaramba at Malay Giri, Shri Kumarika at Kanya Kumari, Mataji Ambaji at Anartgujarat Mata Mahalaxmidevi at Kohlapur, Devi Lalita at prayag, Vindhya Vasini at Vindhya, Vishalakshi at Varansi, Mangalavati at Gaya and Sundari Bhavani at Bangal & Guhya Kesari in Nepal.The Great Miracle of this Holy Place is that there is no idol or picture in the Nij Mandir the Temple of Shri Arasuri Mata Ambaji, but a simple cave like Gokh in the inner wall, in which A Gold Plated Holy Shakti Visa Shree Yantra having kurma back convex shape and 51 Bij letters therein, connected with that of the original Yantras of Nepal and Ujjain Shakti Piths, is also ritually installed in such a way it can be visible for devotion, but never photographed in past nor can be so done in future. The worship of this Visa Shree Yantra is done only after tying a bandage on the eyes.

The famous mountain of Gabbar is situated on the border of States of Gujarat and Rajasthan, near the flow of the origin of the famous Vedic virgin river SARASWATI, on the hills of Arasur in forest , towards south-west side to ancient hills of Arvalli, at the altitude of about 480 meters, at about 1600 feet high from sea level, having at 8.33 sq km (5 sq. miles area ) area as a whole, and it is in fact One of the Fifty One (51) famous Ancient Pauranik Shakti Piths - The Centre of Cosmic Power of India and it is the original holy place of Mata Ambaji, where the piece of the heart of the dead body of Devi Sati fell at the top of this holy hill of Gabbar as per the legend narrated in the "Tantra Chudamani". The Mountain or Hill of Gabbar has also a small temple fortified from the western side and there are 999 steps to go up to the mountain and reach this holy temple at the top of Gabbar Hill.

A Holy Lamp is constantly burning on this hill temple facing exactly in front of Visa Shree Yantra of Nij Mandir of Mata Shri Arasuri Ambica. There are many more beautiful Site Seeing Places on Gabbar together with a sunset point, Cave and Swings of Mataji and Trips through Ropeway.