In 1951 Dr. Rajendra Prasad, the first President
of India, who performed the Jyotirling-Pratishthapan
ceremony of the new Temple
Somnath Temple (Gujarat) Hindu Temples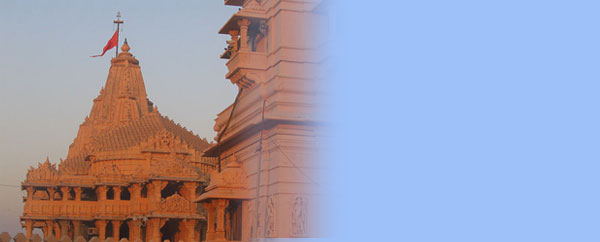 The Somnath Temple located in the Prabhas Kshetra near Veraval in Saurashtra, on the western coast of Gujarat, India is the most sacred of the twelve Jyotirlings (lingas of light) symbols of the God Shiva. It is mentioned in the Rig Veda. Somnath means "The Protector of Moon God". The Somnath Temple is known as 'the Shrine Eternal', as although the temple has been destroyed six times it has been rebuilt every single time.

Hindu mythology states that years ago, the Moon God Chandra, being arrogant about his beauty, was cursed by his father-in-law Daksha to wane. The Moon then prayed to Lord Shiva at the Prabhas tirth who then removed the curse partially, thus causing the periodic waning of moon. It's been said that Somnath Temple was first built with gold by Moon God, with silver by Ravana, with sandalwood by Lord Krishna, and with stone by Bhimdeva (Solanki Ruler of Gujarat)

Architecture

The Present temple, Kailash Mahameru Prasada, is built in the Chalukya style of temple architecture and reflects the skill of the Sompuras, Gujarat's master masons. The temple is situated at such a place that there is no land in between from Somnath seashore to Antarctica. Such an inscription in Sanskrit is found on the ARROW-PILLAR erected on the sea-protection wall at the Somnath Temple. The Darshani Gates of the Golden Temple in Amritsar are the Somnath Temple Gates, which were brought back by the army of the mighty Jat-Sikh King Maharaja Ranjit Singh from Afghanistan.

In 1951 Dr. Rajendra Prasad, the first President of India, who performed the Jyotirling-Pratishthapan ceremony of the new Temple said, "The Somnath Temple signifies that the power of creation is always greater than the power of destruction."

How to Reach

By Air - The nearest Airport is at Diu, (90 km ) which is connected with Mumbai.

Rail - Before Veraval (5 km) was the closest Railway station. However now, by the grace of Somnath Mahadev, SOMNATH itself is a new railway station as of 16 October, 2008.

Road - State transport buses and private luxury coaches connect various centres of Gujarat to Somnath.