As predicted, before Ravana could return after
completing his rituals, Ganesh had already
placed the AtmaLinga on the ground.
Murudeshwara (Karnataka) Hindu Temples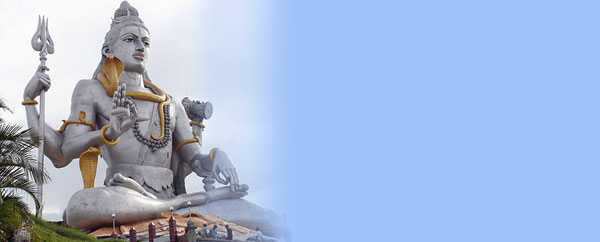 Murudeshwara is a town in the Bhatkal Taluk of Uttara Kannada district in the state of Karnataka, India. "Murudeshwara" is another name of the Hindu god Shiva. Famous for the world's tallest Shiva statue, this beach town lies on the coast of the Arabian Sea and is also famous for the Murudeshwara Temple.

Etymology

The origin of the name "Murudeshwara" dates to the time of Ramayana. The Hindu gods attained immortality and invincibility by worshipping a divine lingam called the AtmaLinga. The Lanka king Ravana wanted to attain immortality by obtaining the AtmaLinga. Since the AtmaLinga belonged to Lord Shiva, Ravana worshipped Shiva with devotion. Pleased by his prayers, Lord Shiva appeared before him and asked him what he wanted. By this time Narada had asked Lord Vishnu to change Ravana's mind. As a result of this plot, Ravana asks for Goddess Parvathi, and Lord Shiva offers him. On his way back to Lanka Narada tells Ravana that Lord has not given real Parvathi and that the real Parvathi was in Pathala. So Ravana lets off Parvathi and goes to Pathala and marries a king's daughter thinking that she was Parvathi. When he returns back to Lanka and tells that he had brought Parvathi, his mother then asks for linga. Ravana then comes to know that Vishnu had done all these tricks. Now Ravana goes back and meditates a lot to please Lord Shiva. Lord Shiva appears and Ravana asks for His forgiveness. This time, Ravana requests the AtmaLinga as his boon. Lord Shiva agreed to give him the boon with a condition that it should never be placed on the ground. If the AtmaLinga was ever placed on the ground, all the powers would return to Lord Shiva again. Having obtained his boon, Ravana started back on his journey to Lanka.

Sage Narada, who came to know of this incident, realised that with the AtmaLinga, Ravana may obtain immortality and create havoc on earth. He approached the Lord Ganesh and requested him to prevent the AtmaLinga from reaching Lanka. Lord Ganesh knew that Ravana was a very devoted person who used to perform prayer ritual in the evening every day without fail. He decided to make use of this fact and came up with a plan to confiscate the AtmaLinga from Ravana.

As Ravana was nearing Gokarna, Lord Vishnu blotted the sun to make it look like evening had appeared. Ravana now had to perform his evening rituals but was worried because with the AtmaLinga in his hands, he would not be able to do his rituals. At this time, Lord Ganesh in the disguise of a Brahmin boy came near him. Seeing him, Ravana requested him to hold the AtmaLinga until he performed his rituals, and asked him not to place it on the ground. Ganesh struck a deal with him saying that he would call Ravana thrice, and if Ravana did not return within that time, he would place the AtmaLinga on the ground.

As predicted, before Ravana could return after completing his rituals, Ganesh had already placed the AtmaLinga on the ground. Vishnu then removed his illusion and it was daylight again. Ravana, realising that he had been tricked, got really angry and tried to uproot and destroy it but could not. Then he decided to destroy the covering of the AtmaLinga, and threw the case covering it to a place called Sajjeshwara, 23 miles away. Then he threw the lid of the case to a placed called Guneshwara (now Gunavanthe)and Dhareshwara, 10-12 miles away. Finally, he threw the cloth covering the AtmaLinga to a placed called Mrideshwara in Kanduka-Giri (Kanduka Hill). Mrideshwara has been renamed to Murudeshwara.

How To Reach

By Road - Murudeshwara lies at a deviation of 1 kilometer from the National Highway NH-17 between the towns of Honnavar and Bhatkal. A big arched entrance on the Highway marks the entrance of the road to Murudeshwara. From Mumbai and Mangalore, one can take the NH-17 to reach Murudeshwara. From Bangalore one can take the NH-206 to reach Honnavar and then take NH-17 to reach Murudeshwara. Total distance from Bangalore to Murudeshwara works out to be 455 km.

By Rail - Murudeshwara station lies on the Konkan Railway. Some trains from Mumbai and Mangalore stop here. There are no direct trains from Bangalore. Alternatively, one can alight at Bhatkal station.

By Air - Nearest airport is Mangalore International Airport, 165 km away. Hubli and Panaji airports are other alternatives.