Somnathapura near Mysore houses the
Kesava temple - the last great temple
built by the Hoysala dynasty.
Somnathpur Temple (Karnataka) Hindu Temples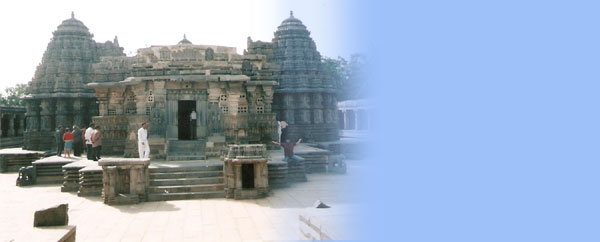 Karnataka is justly called the cradle of stone architecture, as its peerless stone wonders are eloquent reminders of a fertile heritage. As one reaches Somnathpur, a small village on the banks of the Kaveri, 140 kms, south-west of Bangalore, one feels an eternal stillness and freshness in the air as if the place is if saying eternity grows here. Here, amidst the lasting rural serenity stands Kesava temple - one of the grandest of Hoysala monuments.

The Kesava temple at Somnathpur, a resting village 45 km from Mysore, is one of the most famous Hoysala temples in Karnataka, the two others at Belur an Halebid being equally famous. The Somnathpur temple built in AD 1268 is considered an example of the fully evolved style of Hoysala architecture. The Hoysalas were a mighty martial race who ruled large parts of present day Karnataka between 1100 and 1320 AD.

In the dust and turmoil of history, India was witnessing the Golden Age of the mighty Cholas, Pandyas and the Hoysalas. The last named dynasty which ruled Karnataka for nearly 350 years, was founded in 1006 A.D., soon after the collapse of the Ganga Dynasty.

Coming to the temple at Somnathpur, one need not search far for its history. An inscribed stone slab, in old Kannada, at the entrance says it all. The reigning monarch was Narasimha III (1254-91 A.D.) whose full regal title runs into a sizeable paragraph: "Sri Vishnuvaradhana, Pratapa Chakravarti, Hoysala Bhujabala, Sri Vira Narasimha, Maharajadhiraja, Raja Paramesvara, Sanivarasiddhi, Giridurgamalla etc.

The Hoysala temple at Soswmnathpur, is truly unique in design, perfect in proportion and the stone carvings are striking marvels in stone. The shrine stands in the centre of a walled compound, around which runs an open verandah with 64 cells. The temple itself, stellar in shape, has three elaborately carved pinnacles with a common Navranga and stands on a raised platform. The three sanctums once housed beautifully carved idols of Kesava, Janardhana and Venugopala. Today the idol of Lord Kesava is missing, but the other two still adorn the sanctums in their original form.

Reaching Somnathpur

Air : Bangalore is the nearest major airport connected to most of the major Indian cities with regular flights.

Rail : Somnathpur is situated around 40 km off Mysore and well connected by rail to Mysore and Bangalore, which is 180 km away.

Road : Somnathpur is situated around 40 km off Mysore and well connected by road to Mysore and Bangalore, which is 180 km away.