Subsequently King Venkatappa Naicker who was
blessed by Lord Srinivasa with a child has
constructed the temple in a big way.
Thiruvenkatanathapuram (Tamil Nadu) Hindu Temples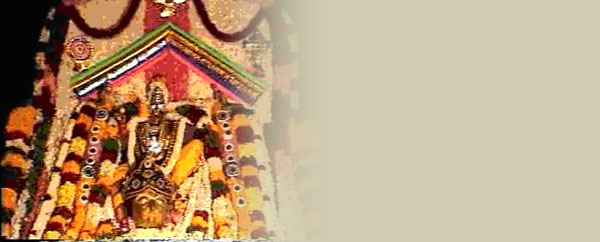 Mela Thiruvenkatanathapuram also known as Thirunankovil is a hamlet situated on the bank of river Thamirabarani . It is about 10 km from Tirunelveli, a district head quarter in Tamilnadu, South India. There are 3 different routes from Tirunelveli to reach this place. The village is located on a hillock and the temple is located at an elevated plane surface. Even though these roads are narrow, they are navigable and every day mini bus service (Route No. 6A and 6B from Tirunelveli) is in operation which goes up to the temple entrance.

History

In times immemorial this place was a jungle and known as 'Salivadipuram' or 'Vaiprachiam'. Nearby this place there was a hillock called 'Swetha Parvatham'. Sage Pilor, one of the disciples of Maharishi Vyasa was in meditation on the Thamirabarani river bank in pursuit of Srinivasa (Lord Mahavishnu). At that time there was neither a temple nor even an idol for worship. Hence Pilor performed everything spiritually in his mind by offering flowers. After 7 days, all the flowers piled up and turned into a very bright light in which Lord Srinivasa appeared before the sage. At his lotus feet the presiding deity of the river Thamirabarani also appeared. Pilor was enthralled and pleaded the God to be present in the place permanently along with his Goddesses and others. He also built a small temple wherein he incarnated Lord Srinivasa along with Goddesses Boomi Neela and Alarmel Mangai. The bathing place in Thamirabarani was named as 'Srinivasa Theertha Ghat' .

Subsequently King Venkatappa Naicker who was blessed by Lord Srinivasa with a child has constructed the temple in a big way. He also named the associated village in his name to be known as Thiruvenkatanathapuram. The relics in Telugu script reveal that king Thirumalai Naicker (who ruled Madurai and a great devotee of Goddess Meenakshi) and Viswanatha Naicker visited this place in Kollam year 722 (corresponding to 1546 AD), took a holy bath in Srinivasa Ghat and worshipped Lord Srinivasa. They have also made several endowments to the temple for its regular functioning.

Garuda Sevai is the most famous festival celebrated in the temple. It is celebrated on each Saturday and on Thiruvonam Star day in the Tamil month Vaikasi corresponding to September – October every year. During this time the small village is flooded with people from nearby towns and villages and also from various parts of the country to have the blessings of Lord Srinivasa (Maha Vishnu). A very big gathering beyond the comprehension of the village is made every year. The local authorities take lot of care to manage the crowd. During this festival, Lord Srinivasa comes out of the temple in procession on his Garuda vahanam and showers blessings to all of us.