The Annual Brahmotsavam will be conducted
during Panguni and Puratasi Month. The Vasantha
Utsavam will be conducted in Vaikasi Month.
Uppiliappan Temple (Tamil Nadu) Hindu Temples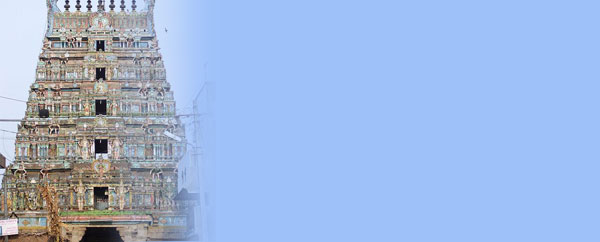 The Uppiliappan Temple which is also called ThiruVinnagar is near Thirunaageshwaram, Kumbakonam, Tamil Nadu. The deity here is Lord Uppiliappan Perumal with his consort Bhumi Devi and her father Sage Markandeya. The Temple has a holy tank inside the temple premises. It is 1 km from ThiruNaageshwaram which is Lord Shiva Temple for doing pariharam for Rahu Dhosham. The temple has many Sannidhis for Lord Rama, Lord Garuda Azhwar, Lord Hanuman, Maniappan, Muthappan. The area for pradakshinam has many beautiful paintings of Dasavatar. It has got Gosala and garden also. There is a beautiful Temple elephant which is decorated during festival occasions.

Legend

Once Sage Markandeya prayed for children. Being pleased by his prayers, Goddess Bhumi Devi was reborn as his daughter near a Tulsi Plant. As the days passed, Lord Uppiliyappan came in disguise as an old man and sought marriage to Sage Markandeya. Rishi also accepted, but he was worried. He told Lord that his daughter is very young and does not know even to put salt in food and also does not know about household things. Lord accepted that whatever she cooked he would eat showing mercy towards the Rishi Markandeya. Even if she cooked without salt, he would graciously accept it. Marriage was held in pomp and Glory. That's the history of his name. In Tamil Uppu means salt, illai means without and Appan is a respectful way of calling the Lord. Uppiliyappan literally translates to the Lord without salt. Another way of pronouncing the name is Oppiliappan where Oppu means comparison. He is said to be incomparable in his mercy and grace in granting wishes to his fervent disciples. The name Lavanavarjit also draws root from the Lord's name. Lavanam in Sanskrit means salt and varjit means forbidden. To this day, the prasadam offered will be of without salt in order to approve the Lord's words. Uppilliyappan Temple Tower

Sri Uppiliyappan Mahatyam

Lord Uppiliyappan was praised by Nammazhwar in his songs as Ponnappan, Maniappan, Muthappan, Ennappan and Thiruvinnagar appan and Opparilla Appan (means not equivalent to anybody). He is also called an elder brother of Lord Venkateshwara of Tirumala Hills. In fact it is believed that, if you promise Lord Venkateshwara some offering and due to unavoidable circumstance are unable to visit his temple in Tirumala, he would accept the offering if given at this temple here in Kumbakonam. The converse however does not hold true.

The Prasadam is made without salt. It is told that people who eat salt inside the temple premises will be going to hell. The prasadam given without salt is very very tasty. Puliyodharai (Tamarind Rice), Dhadhyonam (Curd Rice), Pongal, Chakkarai Pongal, Vada, Adhirasam, Murukku are offered to Lord as Prasadam. While eating the Prasadam inside the temple, one would never realize that it was cooked without salt.

Festival

The Annual Brahmotsavam will be conducted during Panguni and Puratasi Month. The Vasantha Utsavam will be conducted in Vaikasi Month. The Kalyana Utsavam will be conducted in Aipasi. Sravana Nakshatram in each month is important. Separate Kalyana Utsavam can be conducted like Tirumala. During the festivals, Lord Uppiliyappan and his consort Bhumi Devi were taken together in a pallaq. The beauty is that the Lord is always with his consort. Many marriages are held at Uppiliappan Kovil.

Travel and Stay

There are many lodges at Kumbakonam and also bus facility available from Kumbakonam to Uppiliappan Temple.