Lord Venkateswara promised King Sumathi that
he would give darshan as Lord Parthasarathy.
Parthasarathy Temple (Tamil Nadu) Hindu Temples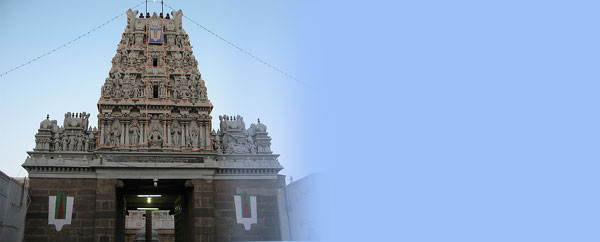 The Parthasarathy Temple is an 8th century Hindu Vaishnavite temple dedicated to Lord Krishna, located at Triplicane, Chennai, India. It is one among the 108 divyadesams or holy abodes of Lord Vishnu. The name 'Parthasarathy', in Sanskrit, means the 'charioteer of Arjuna', and Lord Krishna is worshipped in that role in this temple. It was originally built by the Pallavas in the 8th century and then later renovated by the Cholas and the Vijayanagara kings. One of the distinguishing features is that it contains the deities of the four incarnations or avatars of Vishnu: Narasimha(lion), Rama, Varaha(boar) and Venkata Krishna

Temple

The temple is one of the oldest structures in Chennai. There are shrines for Sri Vedhavalli Thayaar, Sri Ranganatha, Sri Rama, Sri Varadharajar Swamy, the beautiful Narasimha (as Azagiyasingar), Sri Andal, Sri Anjaneya, Alwars, Ramanuja,Swami Manavala mamunigal and Vedanthachariar. There are separate Dwajasthambams (flag) and entrances for Lord Parthasarathy and Lord Narasimha. The gopuram and mandaps (pillars) are decorated with beautiful elaborate carvings, a standard feature of South Indian Temple Architecture.

Legend

Lord Venkateswara promised King Sumathi that he would give darshan as Lord Parthasarathy. In order to keep the promise, the Lord Venkateswara appeared as Lord Parthasarathy. Sage Athreya had installed the idol of Lord Parthasarathy Swami. Legend has it that the parents of the great SriVaishnava acharya, Sri Ramanuja came to this temple and prayed to the Lord for a son and eventually the great acharya was born. It is also believed that the great saint Sri Ramanuja is none other than the Lord Parthasarathy himself who was born to revive the Vishistadvaitha.