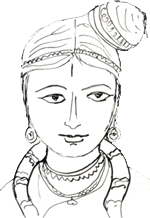 Andal's songs are imbued with bridal mysticism. Her life-history is misty with legends and myths. She was supposed to be discovered as an infant lying under a Tulsi (Basil) plant by the temple priest, Perialwar, also known as Vishnuchitta. Her birth date has been assigned by modern scholars to the middle of 7th century A.D.
The Vishnu temple at Srivilliputtur (some sixty kilometres from the modern city of Madurai) was where Andal developed her bridal devotion. Daily she would deck herself with flower garlands and imagine herself to be the bride of Krishna. In her imagination, she went back to the times when Krishna sported with Gopis in Gokula on the banks of the Yamuna river.
She deemed herself to be a Gopi, rising early in the morning, waking her companions from sleep, having a ritualistic bath and going to Nandagopa's residence to pay homage to Krishna. This imagery is the central theme of Tiruppavai, a string of 30 songs.
Legend has it that Andal was taken in bridal attire to Sri Ranganatha's temple at Srirangam, where she entered the sanctum sanctorum got merged with the Lord.
The temple at Srivilliputtur today houses the images of Ranganatha and Andal, as the Lord and His spouse, where thousands throng to worship, especially during the month of Margasirsa (December 15 to January 15).
Recitation of Andal's 30 songs of Tiruppavai is resorted to by women of South India during this period.