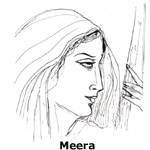 Meera, the princess-poet, saint-singer, was born in 1498 in a royal family of Mewar, Rajasthan.
From childhood she became a devotee of Krishna.
She was married to Bhujaraja, a sun of Rana Sanga who died while quite young.
Early widowhood helped Meera in her God-oriented ascetic life of prayer and devotion.
Like Andal of the seventh century, Meera saw herself as the bride of the Lord (Krishna) and poured forth her spiritual yearnings in soulful poetry.
Persecuted by her husband's brother, Meen had to leave Chittor and go to Brindavan Her last few years were spent in Dwaraka, Gujarat. She died in 1547 A.D.
The God-intoxicated songs of Meera have transcended regional barriers and are sung all over India.