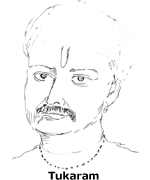 Saint Tukaram was born in a small village named Dehu in Maharashtra in the year 1608. Like his parents, he was a clevotee of Vitthal of the temple at Pandharpur.
In his life, Tukaram underwent a lor of misery, induding extreme poverty. His family business ran into losses, his first wife died and his second wife, Jijabai, proved to be a shrew. But Tukaram remained Unflinching in his devotion to the Lord of Pandharpur and composed mellifluous songs to His Divine Master.
Tukaram's songs are known as Abhangs (meaning: Unbreakable ones).
What he sang was dutifully recorded by two of his disciples: Gangaram Maval and Santaji Teli and tranferred to posterity. Today they are a part of the psyche of the people 0f Maharashtra.
Tukaram was a contemporary of Shivaji, who was one of his admirers. Tukaram conducted prayer meetings, singing bhajans, to which a large number of people flocked and his fame spread.
He died in 1650.
As one of his disciples declared: No one could match Tukaram in jnana, Bhakti and Vairagya (knoledge, devotion and detachment).
His songs display rustic snnplicity, deep devotion and a frank intimacy with his beloved personal God; Vitthala of Pandharpur