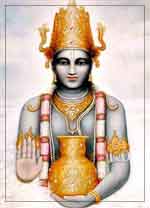 13) DHANVANTARI (Incarnation as Dhanvantari) :Lord Vishnu took his thirteenth incarnation as Dhanvantari. He manifested from the ocean holding a vessel filled with ambrosia. He was the profounder of medicinal science.
14) MOHINI AVATAR (Incarnation as a most Enchanting woman) :Lord Vishnu in his fourteenth incarnation as a most enchanting woman enchanted the demons by his beautiful appearance of a woman, and took away the pot filled up with ambrosia from them and gave it to the deities. The deities were thus protected from the demons.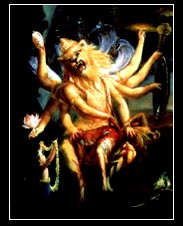 15) NARSIMHA AVATAR (Incarnation in the form of half-man and half-lion) :Lord Vishnu took his fifteenth incarnation as Nrisimha, having upper portion of his body in the form of lion and the lower portion resembling of a man. In this incarnation he protected Prahlada from his father Hiranyakashipu the demon. He killed Hiranyakashipu by tearing his body apart by his nails. Lord Vishnu had to attain this form because Lord Brahma had blessed Hiranyakashipu, that a Human being could not kill him.
16) HAYAGREEVA AVATAR (Incarnation as Hayagreeva) : Once Lord Brahma becoming tired of his creative activities, wanted to rest. The night of the Brahma was approaching. Because of his tiredness Lord Brahma yawned. All the four Vedas came out from his opened mouth. A demon who used to live near him in disguise, abducted the Vedas. Lord Vishnu took his sixteenth incarnation as Hayagreeva to protect the Vedas. In this incarnation his face resembled that of a horse and the rest of his body resembled that of Sri Narayan with all of his four hands. He killed the demon and protected the Vedas.