5) NARA-NARAYANA AVATAR (Incarnation as Nara-Narayana) :Lord Vishnu took his fifth incarnation as sage Nara-Narayan by taking a birth from the womb of a woman named 'Kala'. He performed a tremendous penance by going to Badri and Kedar. He showed the importance Penance (Labour), and also that nothing can be achieved in this world without it.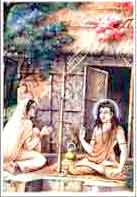 6) KAPILA AVATAR(Incarnation as Sage Kapila) : Lord Vishnu's Sixth incarnation was as sage Kapila. The objective of this incarnation was to compile all the divine knowledge that had been destroyed. He was the profounder of Sankhya Shastra (rationalism) which helped the Brahmins, who had forgotten their duties to rectify their mistakes. He also gave discourse to his own mother.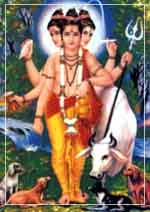 7) DATTATRAYA AVATAR (Incarnation as Dattatraya) :Lord Vishnu's Seventh incarnation was as Dattatraya. He was born to Ansuya and his father was Sage Atri. He was the one who had given Spiritual Knowledge to King Alarka and Prahlada. He had twenty four teachers. He believed that in the world, a man can learn from each and every thing, so he accepted twenty-four objects like water, bird, air, an unmarried girl, and even a prostitute etc.
8) YAGYA AVATAR (Incarnation as Yagya): Lord Vishnu in his eighth incarnation as Yagya was born to Prajapati and Akuti. He had rescued a 'Devagana' (celestial and supernatural being) named Yama and also the Manvantar named as 'Swayambhuva'. The main thrust of his teaching was based on the values of helpfulness and protecting each other during the time of crisis.