9) RISHABH AVATAR (Incarnation as Rishabh Dev) :Lord Vishnu in his ninth incarnation as Rishabh Dev was born to king Nabhi and Marudevi. His mother Marudevi was the daughter of Indra. He attained that state of Paramhansa (an ascetic of highest order who has controlled his anger) which is an uphill task. He was given the title of 'Jin' which means a ' a knower'. His followers are known as Jains.
10) PRITHU AVATAR (Incarnation as Prithu) Lord Vishnu in his tenth incarnation as 'Prithu' came into existence after the body of King 'Vena'. Lord Vishnu took this incarnation as per the wishes of the sages. The earth had concealed all the vegetation's within her and as a result the whole land had become barren. To protect the humanity, Lord Vishnu took incarnation as Prithu by milking the cow (earth). This is considered that as a very supreme incarnation, because the earth has remained full of vegetation's after that.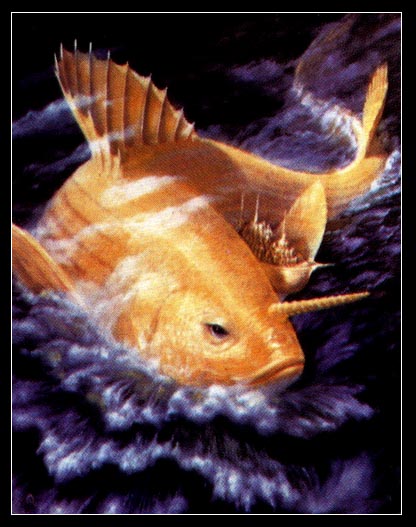 11) MATSYA AVATAR (Incarnation as a Fish) :All the oceans had unified into a single ocean in the 'Manvantara' of 'Chakshusha'. Lord Vishnu in his 11th incarnation as a Matsya (Fish) rescued the earth from 'Maya' the demon. He gave discourses to Satyavrat along with the seven sages, while they were sitting on the boat. He also showed them his illusionary powers. This was his eleventh incarnation.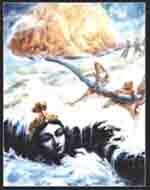 12) KACHCHAP AVATAR (Incarnation as a Tortoise) :Lord Vishnu in his twelfth incarnation as a tortoise, held the mountain 'Mandarachala' on his back, during the time when the deities and the demons where churning the ocean. He stopped the mountain from going to the netherworld. This was Lord Vishnu's twelfth incarnation.