Brahmotsavam Celebrations - Fourth Day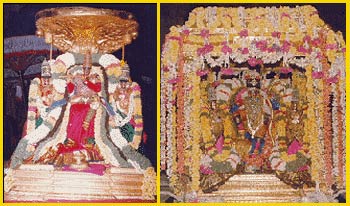 On the fourth day, the deities are carried in a Kalpavriksha Vahana in the morning.
Kalpavriksham is a tree that is believed to grant boons and fulfil devotees' wishes. The vehicle shaped like the Kalpavriksham signifies that the Lord grants boons and fulfils the wishes of his devotees.
In the night, after the Unjal Seva, the deities are carried in a Sarvabhoopala Vahana.
Sarvabhoopala means 'all the kings of Mother Earth'. According to the Hindu religion, kings, like Lord Vishnu, should always protect their people (na vishnuhu prithivi pathihi).
To thank Lord Vishnu for his ideals and pray to him, the kings take the form of the Sarvabhoopala Vahana on the fourth day of Brahmotsavam.
Main | Day 1 | Day2 | Day3 | Day4 | Day5 | Day6 | Day7 | Day8 | Day9