Brahmotsavam Celebrations - First Day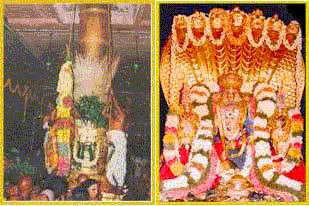 On the first day, Dhwajarohana is conducted by hoisting the Garudadhwaja (flag with the emblem of a black garuda), near the Srivari Alaya Dhwajasthambham.
A spectacular procession of Lord Venkateswara on the Pedda Seshavahana is taken around the four streets of the main temple from 2200 hrs till midnight.
The meaning of Sesha is 'to serve'. Adi Sesha is a thousand-headed serpent, on whom Lord Sri Maha Vishnu rests in his abode, Vaikuntam.
Tirumala Hills, the abode of Lord Sri Venkateswara, is believed to be the manifestation of Adisesha. In commemoration of this event, the Lord is carried in a procession around the streets of Tirumala on the Seshavahana (vehicle shaped like Adisesha) during the first two days of Brahmotsavam (Pedda Seshavahana and Chinna Seshavahana).
Main | Day 1 | Day2 | Day3 | Day4 | Day5 | Day6 | Day7 | Day8 | Day9