Brahmotsavam Celebrations - Sixth Day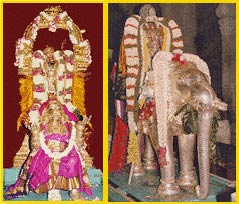 On the morning of the sixth day, the deities are carried on a beautifully-decorated Hanumad Vahana.
Hanuman was one of the greatest devotees of Sri Rama, an incarnation of Lord Vishnu. Hanuman served the Lord so faithfully, that even the Lord could not thank Hanuman enough. Devotees believe that they are indeed blessed if they catch a glimpse of the Lord on Hanumad Vahana.
Unjal Seva is not performed on the sixth day. Instead, Vasantotsavam (spring festival) is celebrated.
In the night, the Lord is mounted on the Gaja Vahana. Gajam (elephant) is also called the samajam (born from Samaveda). It symbolises wealth (gajamtam aishwaryam). It also symbolises the Airavatam – the vehicle of Devendra, the head of the heavens in Hindu mythology. It also can be attributed to the elephant in Gajendramoksham (story from the Mahabhaghavatam), which is saved from a crocodile by Lord Vishnu.
Therefore, the Lord is taken in a procession seated on a Gaja Vahana during Brahmotsavam.
Main | Day 1 | Day2 | Day3 | Day4 | Day5 | Day6 | Day7 | Day8 | Day9