Brahmotsavam Celebrations - Seventh Day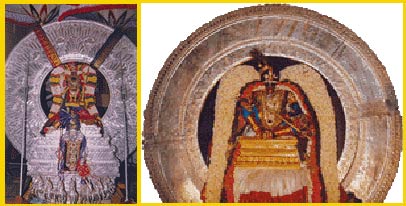 On the morning of the seventh day, the Lord rides on Suryaprabha Vahana (Sun chariot). Surya (the Sun), the son of Aditi, is another form of Lord Vishnu (Surya Narayana).
Hindu mythology supports the heliocentric theory, and believes that Lord Vishnu is the centre of the universe (dhyassada savitrumandala madhyavarthi). To symbolise this, Lord Venkateswara uses the Suryaprabha (light of the Sun) Vahana.
After the Unjal Seva in the night, the Lord is taken in the Chandraprabha Vahana (moon-shaped vehicle) around the brightly-lit streets of Tirumala.
Chandra means the Moon, which is considered cool and pleasant. According to Hindu mythology, Chandra is the commander of the mind (chandrama manaso jataha). He is also the king of aushadha (medicine).
It is believed that riding in the Chandraprabha Vahana is a soothing experience for the Lord. The Lord's contentment will bring peace to devotees' minds and result in a good crop.
Main | Day 1 | Day2 | Day3 | Day4 | Day5 | Day6 | Day7 | Day8 | Day9