Brahmotsavam Celebrations - Ninth (Last) Day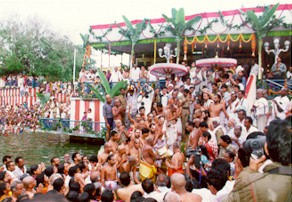 On the last day, Pallaki Seva and Chakrasnana Mahotsavam in the morning and Dhwajavarohanam are performed in the evening.
The processional images are anointed with oil, turmeric powder and other auspicious ingredients and Abhishekam is performed. Sudarsan Chakram is given a bath in the Swami Pushkarini. The Garuda flag is then lowered.
Main | Day 1 | Day2 | Day3 | Day4 | Day5 | Day6 | Day7 | Day8 | Day9