Brahmotsavam Celebrations - Fifth Day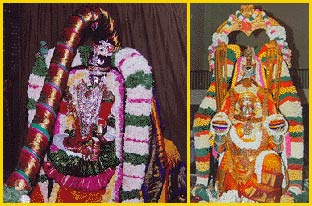 On the fifth day, Mohini Avatarotsavam is celebrated to commemorate the Lord's incarnation as Mohini, in the morning
According to legend, the Devatas and the Demons performed Ksheerasagaramadhanam that resulted in amrit (nectar which when consumed grants immortality) and other sacred qualities. The Devatas and the Demons fought for possession of the Amrit. Lord Vishnu then assumed the form of Mohini (a beautiful woman) and procured the Amrit for the Devatas.
The Lord is dressed like Mohini, and He is taken in a procession in a Pallaki (palanquin).Lord Krishna is also taken in the same procession. This is to celebrate the assistance rendered by Lord Vishnu to the Devatas during Ksheerasagaramadhanam.
After the Unjal Seva in the night, the Lord and his consorts are seated on Garuda Vahana. Lord is decorated with Mahaakanti, Sahasranaramala that day.
According to the ancient Hindu texts, Garuda, the king of birds, is a replica of the Vedas (vedatma vihamgeswara), while Lord Vishnu is the God of the Vedas. Therefore, the Lord sees Himself in Garuda. In the Vaishnava Puranas, Garuda is also called periyatiruvadi, meaning the first devotee.
Therefore, Lord Venkateswara selected Garuda as his vehicle for the most important day of the Brahmotsavam. Garuda Vahana is the greatest of all the Vahanas. A large number of pilgrims visit the temple on this day.
Main | Day 1 | Day2 | Day3 | Day4 | Day5 | Day6 | Day7 | Day8 | Day9