Bhattiprolu is a small village in Guntur District of
Andhra Pradesh State in Southern India.
Bhattiprolu (Andhra Pradesh) Hindu Temples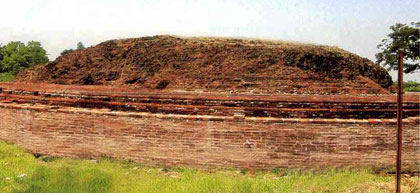 The original name of Bhattiprolu was Pratipalapura, a flourishing Buddhist town in the ancient Sala kingdom that predated Andhra Satavahanas. From available inscriptional evidence, King Kuberaka was ruling over Bhattiprolu around 230 BCE. Bhattiprolu is well known for its Buddha stupa (Chinna Lanja dibba and Vikramarka kota dibba) built about 3rd-2nd century BCE. During excavations at Bhattiprolu there has been found linguistic evidence of a Telugu language that belongs to 3rd Century BCE, and the progenitor of Brahmi script, well known as Bhattiprolu Script to historians. Merchants took the script to Southeast Asia where it parented the scripts of Mon, Burmese, Thai, Khmer, Javanese and Balinese languages. Their similarities to Telugu script can be discerned even today.

Three mounds were discovered in Bhattiprolu in 1870. In 1892 when excavations were undertaken by Alexander Rea, three inscribed stone relic caskets containing crystal caskets, relics of Buddha and jewels were found. The stupa was found to be 40 meters in diameter with an additional basement of 2.4 meters wide running all around. The most significant discovery is the crystal relic casket of sarira dhatu of the Buddha from the central mass of the stupas. The Mahachaitya (great stupa) remains of a large pillared hall, a large group of ruined votive stupas with several images of Buddha, a stone receptacle containing copper vessel, which in turn, contained two more, a silver casket and with in it, a gold casket enclosing beads of bone and crystal were found.
Do you intend to have a vacation break in your life? Incase you are looking for a right destination to holiday to, then visit Bhattiprolu. The small village of Bhattiprolu is nestled in the Guntur District of Andhra Pradesh. Bhattiprolu was previously named as Pratipalapura, which thrived as a Buddhist town during the Sala kingdom. Visit Bhattiprolu for its famous Buddha stupa, locally called as Chinna Lanja dibba and Vikramarka kota dibba that came into existence during the 3 rd to 2nd century BC. Archeological excavations prove that Bhattiprolu existed during the 3rd Century BC, having links with the Brahmi script that later on became the Bhattiprolu script.
As inscribed in the history, King Kubera headed Bhattiprolu during the 230 BC, after the reign of the Sala Kings. The crystal casket of sarira dhatu belonging to the Buddhist era is yet another attraction of the region.
Travel to Bhattiprolu, which is lying along the Guntur-Repalle railway line with a stretch of about 11 kms especially from Repalle within the Guntur district. Avail regular bus and train services from Repalle Bhattiprolu that connect you to this place. During the ancient period, Raja Kuberka took the responsibility in preserving the remnants of Lord Buddha. So travel to historical destination of Bhattiprolu that would leave behind cherished moments.