The siva linga in this temple is said to be one
large crystal, which is 2.6 meters high.
Draksharama Temple (Andhra Pradesh) Hindu Temples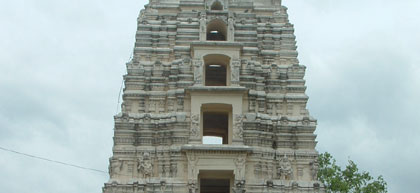 Draksharama Temple is one of the Pancharama Kshetras in South India. It is located approximately 18 km from the city of Kakinada, in the East Godavari District of Andhra Pradesh.The Siva deity is known as Bhimesvara Swamy. The temple is situated on the eastern bank of Godavari River. The consort of Lord Bhimesvara is Manikyamba. According to local belief the Siva linga at the temple was installed and established by the god Surya. Maha Shivaratri, Devi Navaratrulu, Karthika Masam, and Dhanurmasam are the main festivals celebrated at this temple. According to local legend, the Draksharama temple was built by angels in one night.

The construction of the perimeter wall could not be completed before sunrise and still stands incomplete. Several attempts have been made to construct the uncompleted part of the wall but all those efforts have failed with the constructed wall collapsing within a few months.[citation needed] There is a railway station in Draksharama in Kakinada-Kotipalli railway line. As per the Government of India, the temple construction was started in mid 800 A.D. and completed somewhere around the 11th century. The construction of the Draksharama temple is a marvel, consisting of a two-staired mandapa and two walls, one inside of the other. The inner Draksharama temple (Garbhaalaya) made it a very profound and cultural work of architecture in those times. Its architecture is still a library for students of architecture. The ventilation of the inner temple is impressive. The Draksharama temple is always full of light and air with very good ventilation.

The Draksharama temple's two-stair mandapa is a real astonishment for anyone, and the pillars in the temple are carved so delicately skillfully carved. Many Shasanas (Official & Historical Registry Chronicles) have been written on the stone walls of the temple from time to time, from legions of Chola & Sathavahanas to Vijayanagra & Reddy Kingdoms that ruled over centuries. The scripts are Dravidian, Tamil, Devanagri, and Telugu scripts of both Sanskrit and Telugu languages. 108 Shivite temples were built after 800 A.D. around this temple in a radius of 40 kilometers. Some purohits have this list. The village is called Dakshina Kasi.

The siva linga in this temple is said to be one large crystal, which is 2.6 meters high. Shiva is accompanied by Dakshayani, who is the first wife of Shiva (also the daughter of Daksha, so is the name Dakshayani). Manikyamba goddess, said to be one part of Sati Devi, among 18 pieces, that fell here, is a Shakti Peetha. It has one of the world's longest siva linga.