Just as the Avataaras of Rama and Krishna,
the Lord takes different forms in every Yugam
as 'Sambhavami Yuge Yuge'. Lord Krishna says
in Bhagvat Gita.
Chilkur Balaji Temple (Andhra Pradesh) Hindu Temples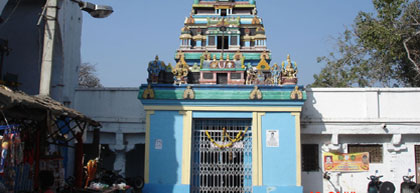 Many years ago a devotee of Lord Venkateswara was residing in this village. Every year after the farming activites were over he would start his journey to Tirupathi. He would offer a major share of the grains, which had grown in his lands and return back after having Darshan of the Lord.

This yearly once darshan was enough for him to cherish the same till the next year. "Oh, Lord of seven Hills", he would call out when ploughing the fields, "Govinda, Govinda" he would call when sowing the seeds, "Balaji, Balaji" he would shout loudly when weeding the fields and "Venkateswara, Venkanna" he would chant when watering the same.
Years dragged slowly when his devotion increased and also his age. Having grown old he was losing the stamina he had for so many years. The harvesting season also neared. With a walking stick in his hand he slowly walked in the fields watching the fully-grown paddy field.
His gait was a slow tired walk. I may not be able to make it to the Hill to see my lord this year. He was getting dejected at the very thought that his health may not permit this trip.
He was seen worrying all through the day. He would murmur to himself and sigh to himself. He would start weeping uncontrollably sometimes. No one could console him. He would go into a trance sometimes. Slowly he stopped taking food and fell ill. Few days passed like this. One-day early in the morning, he felt like someone waking him up. "Get up my Child!" A radiant figure was standing before him.It was none other than his beloved deity Balaji. "You need not come to the Seven Hills for seeing me. I have come to you. I am inside an anthill near your fields beside the small Siva Lingam. Only Lord Siva knows my presence. He has been keeping it as a Treasure till now. Now you can take me out and keep seeing me here itself. I am in a single idol with both of my consorts."

Before he could ask anything, the vision had gone. He got up immediately to see that it was nearing dawn. He ran out of the house,calling everyone on his way to the fields. Few people had assembled when the idol was getting dug up as mentioned by the lord. But, in the haste, they struck the crowbar on the idol to find blood oozing out of the anthill. They poured milk as ordered by an apparition and lo, before them stood the small idol of Lord Balaji with the divine consorts Sreedevi and Bhoodevi near his feet on the same idol on either sides.

They built a small Temple at the place and now, even now, Lord Balaji graces his devotees at Chilkur. I am one of those blessed ones to have experienced his grace. It was in the year 1971 at the age of 24 when I, as an Engineering graduate was jobless, frustrated at failure in procuring a Job, I came to Chilkur. On the day of Krishnashtami, I performed the Vishnu Shasranama Archana to this lord. At the end of the Archana, I could not control myself and started weeping uncontrollably at my joblessness. Surprisingly the next day itself, I could get a good job at Hyderabad. I spent seven years serving the deity in the Temple. It was here that I could complete the remaining parts of the Vedas that I could not learn from father. Ever since my prayers at Chilkur, due to the soothing grace of Lord Balaji, I have never looked back and reached one height after another due to Him only.

Just as the Avataaras of Rama and Krishna, the Lord takes different forms in every Yugam as 'Sambhavami Yuge Yuge'. Lord Krishna says in Bhagvat Gita. He has taken the form of Lord Balaji for innumerable devotees in this Yuga. That is why he is called Sambhavaha. Let us Chant "Om Sambhavaya Namaha" remembering Lord Balaji at Chilkur and praying for his grace. Nirukthi summarises The temple is located on the banks of Osmansagar Lake with serene environs with lush green trees, Grape orachards and small rocks in a village called as Chilkur.