This magnificent temple with great
architectural significance was built by the
industrialists Birlas about a quarter centuary ago.
Birla Mandir (Andhra Pradesh) Hindu Temples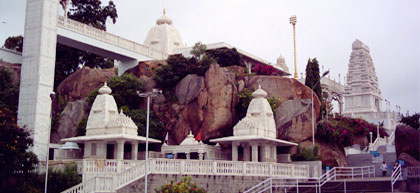 Deities: Venkateswara

The Modern Birla Mandir at Hyderabad The Birla Mandir hill temple, built entirely of marble is a prominent landmark in the city of Hyderabad.

Legend has it that Rama offered worship to Shiva at Ksheerarama

Significance: This is a modern temple (consecrated in 1976) built of white marble on top of a hill, dominating the skyline of Hyderabad. The Birlas (industrialists who have also built several temples in India in this century) built this temple. The presiding

Architecture: This temple displays a mixture of architectural styles. A Rajagopuram built in the South Indian style greets the visitors. The tower over the main shrine of Venkateswara called the Jagadananda vimanam is built in the Orissan style while the South Indian

The granite image of the presiding deity is about 11 feet tall and a carved lotus forms an umbrella for this image. There are several carvings in marble, in the adjoining mukha mandapam - depicting scenes from Indian mythology. The temple is floodlit at nights.

Other shrines in the temple:The consorts of Venkateswara Padmavathi and Andal are housed in separate shrines.

Worship and festivals: Although modern in construction worship is carried out as per the traditional Agama rules, the Pancharatra Agama in particular.

Location: Hyderabad the capital of Andhra Pradesh.