The fact that many of the temple's
murthis are portrayed as "sky-clad," or nude
Devipuram Temple (Andhra Pradesh) Hindu Temples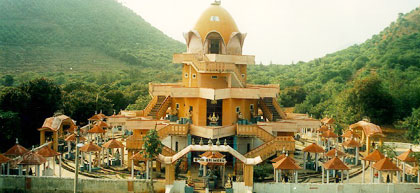 Devipuram Temple is a Hindu temple complex located near Visakapatnam, Andhra Pradesh, India. Belonging primarily to the Shakta school of Hinduism, it is dedicated to the goddess Sahasrakshi (lit., "she who has a thousand [infinite] eyes", a form of Lalita Tripurasundari or Parvati), and her consort Kameshwara (Shiva).

Devipuram's primary focus is the Sahasrakshi Meru Temple, a unique three-story structure built in the shape of a Sri Meru Yantra; i.e., a three-dimensional projection of the sacred Hindu diagram known as Sri Chakra, which is central to Srividya upasana (an ancient and intricate form of Tantric Shakta worship).

Measuring 108 feet (33 m) square at its base and rising 54 feet (16 m) high, the temple has become an increasingly popular pilgrimage destination over the past decade. Two other shrines, the Kamakhya Peetham and Sivalayam, are located on hills adjacent to the main temple. The sanctum sanctorum of the Sahasrakshi Meru Temple is reached by circumambulating inward and upward, past more than 100 life-sized murthis of various shaktis or yoginis (deities expressing essential aspects of the Devi) who are, in Srividya cosmology, said to inhabit and energize the Sri Chakra.

Their exact locations are "mapped" in an elaborate ritual called the Navavarana Puja ("Worship of the Nine Enclosures"), which was in turn condensed into a mantric composition called the Sri Devi Khadgamala Stotram ("Hymn to the Auspicious Goddess's Garland of Swords"), forming the basis of the temple's layout. This temple is unconventional in its practice of allowing devotees to perform puja to the Devi themselves, without regard to caste, creed or gender. The fact that many of the temple's murthis are portrayed as "sky-clad," or nude, has also, over the years, gained Devipuram considerable attention and a certain amount of notoriety.