In the temple of Lord Panakala Lakshmi
Narasimhaswamy, there is only the face with
the mouth widely opened.Behind the temple,
there is the temple of Sri Lakshmi
Panakala Narasimha Temple (Andhra Pradesh) Hindu Temples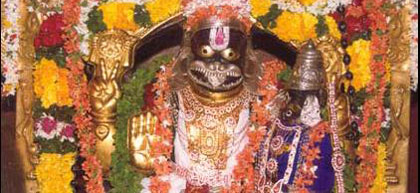 Mangalagiri is one of the eight important Mahakshetrams (sacred places) in India. The temple of Sri Panakala Lakshmi Narasimha swamy is situated on the hill. On the right side of the steps provided to reach the temple, there is a stone inscription by Sri Krishnadeva Raya of Vijayanagar and further up, the footprints of Mahaprabhu Chaithanaya are to be seen. Midway on the steps there is a temple of Sri Venkateswara Swamy.

In the temple of Lord Panakala Lakshmi Narasimhaswamy, there is only the face with the mouth widely opened. Behind the temple, there is the temple of Sri Lakshmi, to the west of which there is a tunnerl, which is believed to lead to Undavali caves on the banks of the Krishna. The Lord that has established Himself on the hill is in the form of Narasimha (man-lion) which Lord Vishnu assumed to kill Hiranyakasipa, A Rakshasa father of Prahlada, a great devotee. He is also called Sudarsana Narasimhaswamy. The legend says that Namuchi, a Rakshasa after great penance obtained a boon from Brahma that he would not be killed by any thing that is either wet or dry.

He began to harass Indra and the Devathas. Encouraged and supported by Lord Vishnu, Indra commenced destroying the army of Rakshasa Namuchi, who hid in a cave in Sukshmakaram giving up his stulakaram. Indra dipped Sudarsanam, the disc of Lord Vishnu in the foam of the ocean and sent it into the cave. Lord Vishnu manifesting himself at the centre of the disc destroyed the Pranavayuvu of the Rakshasa with the fire of His exhalation. He thus got the name of Sudarsana Narasimha. The blood that flowed from the body of the Rakshasa seemed to have formed into a pool at the foot of the hill, which is known hill. The Lord said that he would be satisfied with milk in Swaparayugam, with ghee in Threthayugam and with panagam (jaggery water) in Kaliyugam.

It is also believed that Lord Rama while departing for Vaikuntam after completing his mission in that incarnation advised Anjaneya to stay at Mangalagiri and after obtaining his blessings to remain in this world for ever. Anjaneya took his adobe at Mangalagiri as Kshetrapalaka. The place thus also came to be known as Mukthyadri (the hill that grant Mukthi-salvation).