There are small temples inside the complex
dedicated to Padmavati, Shiva, Rama, Anjaneya,
Ganesha, Navagrahas, Goddess Ashtalakshimi,
Durga and Kartikeya.
Sanghi Temple (Andhra Pradesh) Hindu Temples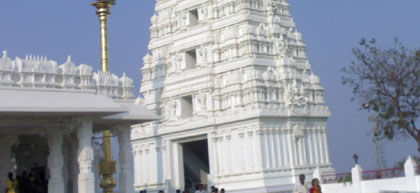 The Sanghi Temple is located at Sanghi Nagar in the city of Hyderabad in India is located about 35 km from the heart of city. The sacred Raja Gopuram can be seen from several kilometers away which is very tall. This beautiful temple complex is located on the top of hill Paramanand Giri, which attracts a number of devotees who seek gods blessings. The beauty of the slope around the temple is simply breath taking and beckoning ordent visitors. As you approach the Paramanand Giri, the gateway or Maha Dwaram welcomes the visitors. As you further proceed, the stone elephant is seen at the stairway. There are three Gopurams seen at the foot of the hillock which are so tall and seen as if touching the heavens. On the top of the temple complex one can see the shrine of Lord Anjaneya, the son of Anjana devi, and the son of wind God, who is believed to shower his blessings to his devotees.
This is a beautiful temple constructed in he South Indian style of temple architecture and hosts all important Hindu God idols. It is a favorite getaway point for the Hyderabadis as well as a popular tourist spot. Sanghi Temple 35 km away from Hyderabad. The idol of Venkateshwara inside the sanctum sanctorum is 9-½ ft tall.
There are small temples inside the complex dedicated to Padmavati, Shiva, Rama, Anjaneya, Ganesha, Navagrahas, Goddess Ashtalakshimi, Durga and Kartikeya. There is also a Pavitra Vanam or a holy garden in the temple complex where special leaves and flowers are grown for performing poojas. The temple opens early in the morning at 5.00 a.m. For one hour, Suprabhatam is recited, followed by Archana to the deities from 6 a.m. to 8 a.m. General darshan for the devotees is allowed from 8.30 a.m. to 10.30 a.m. and again from 4 p.m. to 6 p.m. Poojas and Sevas are held between 6 p.m. to 8 pm. The temple remains closed between 12 a.m. to 4 p.m. and after 8 p.m. Weekly Abhishekam is performed to the deities between 8 a.m. and 9 a.m., Sri Ramalingeshwara (Mondays) Sri Hanuman (Tuesdays), Sri Venkateshwara, Ashtalakshmi, Parvathi, Padmavathi and Rama (Fridays)